Who are you when you really stand up for yourself?
Purpose.
WanderCoaching Seminar
31. August – 05. September 2023  I  Dolomiten, Südtirol
From the quest for meaning
to self-determination
Basically, you have everything you wanted to achieve in life. You have been successful in the job for years, you have done a lot - both privately and professionally. Your life feels established. Nevertheless, there is this nagging feeling that it may not have been all there is, that something new is coming up, a new chapter. But what exactly? And how can I change anything, given all the obligations?
Where does this dissatisfaction come from and when did it start?
Since when does your job swallow you in a way that your private life suffers? Do you get the feeling that you are trapped in your situation? Somehow there is no more back and forth. Is that it?
We are all in different phases of our lives in search for meaning, happiness and fulfillment. Often we project our needs on other people, events and achievements. We imagine that the right job or the perfect partner will bring the big change. At the same time, we easily forget what a powerful lever for creating making and fulfillment we carry within ourselves.
What keeps you from acting the way you feel?
No matter what brought you to this fork in life right now - maybe right now is the time to pause and think about where you actually want to go.
Who would you be if you gave way to what moves you in your innermost core? Who takes care about the unlived passions dormant in you? Do you long for a time-out? Or simply for me-time to dedicate yourself to the question of who you really are – away from your day-to-day life.
Take some time and ask yourself …
WanderCoaching gives you time for yourself and your inner alignment
At the WanderCoaching seminars, there are always developmental impulses through your companions, times of inner silence, intensive exchange with other participants, discussions with two people and individual coaching - and always the honest feedback of nature. You will have room to explore your own boundaries, explore your inner map, and connect with your purpose.
Connect with what really matters to you. Take time to meet yourself, with everything in you. Sign up for one of our Purpose WanderCoaching Seminare .
Take-aways from the seminar
Purpose, Alignment, Self-esteem
"Auch Monate nach der Wanderung denke ich viel an die reichen Momente in den Bergen und profitiere beruflich und privat davon."
Katharina B., Unternehmensberaterin
"Einzigartige Kombination aus geführtem Wandern und strukturierter Selbstentwicklung – sehr empfehlenswert!"
Nicolai W., Manager Business Development
"WanderCoaching ist das Beschreiten und Erkennen von neuen Wegen."
Kirsten N., Zahnärztin
"Ein tolle Möglichkeit, sich mit den eigenen Lebensfragen auf eine unkonventionelle und abenteuerliche Reise zu begeben und dem Ziel des persönlichen Glücks ein Stück näher zu kommen."
Gaby Gieseking, KiTa-Leiterin
"Festgefahrenes scheint sich zu lösen, neue Wege werden gangbar, ungeahnte Perspektiven tun sich auf."
Steven S., Entwickler und Teamleiter
Procedure and methods in WanderCoaching
Hiking and coaching follow a lively dramaturgy. Together with a group of like-minded people, you set off. First of all, it is time to leave the daily routine behind, to come back to yourself completely and to perceive yourself. Then we get in and explore the field of possibilities. To realign the inner map, it needs orientation. On the way in the mountains, all the senses open for the vastness, space is created for the view inside and you come in contact with nature and in motion.
On the hikes from hut to hut you can expect a unique mountain world of vast meadows, rugged rocks and scenic mountain trails. The distances are easy to handle at an average fitness level. The focus is less on the athletic performance, but rather on the inner exploration. On the hike, you reflect on your current situation, create new perspectives and prepare yourself for new challenges.
The alpine accommodation - from simple mountain huts with shared sleeping areas to fully equipped mountain hotels - will provide you with good regional cuisine in the mornings and evenings on the tour. At lunchtime we take a break together, either with packed lunches, which we get at the hut, or at a stop. As a rule, the food is rather hearty, but there are also vegetarian options everywhere.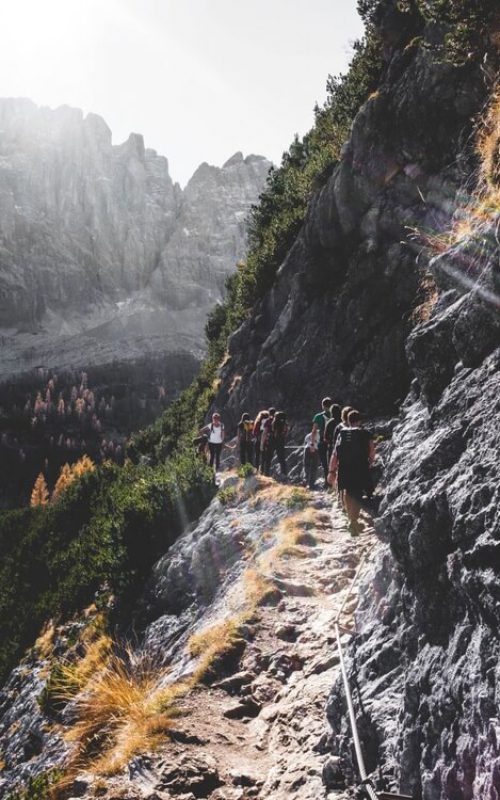 Our work is based on a systemic coaching approach backed up with our experiences in various fields: self-organisation, leadership development, innovation and creativity tools, conflict management and communication, integral theory, nature coaching and vision quest.
WanderCoaching Seminars offer a combination of ambitious sections as well as quiet phases, conversations in small groups as well as individual coaching, workshop units with certain contents and exercises. The exchange with others offers the chance to learn from each other. The nature and mountainous scenery frames the experiences and offers gentle stimuli to shape your way of life. This way you explore your own purpose and find out when you truly stand up for yourself.
We deliberately do not want to give away anymore. So you can meet your hike as openly and impartially as possible and you can be taken by surprise.
Only one thing is still important: The WanderCoaching can lead you into an intense process with yourself. You decide at any time how deep you want to go, what and how much you want to show of yourself.
We will create a secure environment for you to engage in this experience. You can read more about the special features of WanderCoaching here.
Wir vertrauen auf den Kreislauf aus Geben und Nehmen und darauf, dass wir gehalten und umsorgt sind. Deshalb experimentieren wir mit einer neuen Preisstruktur für unser geliebtes WanderCoaching. Denn dafür brennen wir: Wir wollen Menschen in tiefen Prozessen in der Natur und in Bewegung begleiten. Unser diesjähriges Dolomiten WanderCoaching bieten wir deshalb zum #Basispreis an:
Zur Anmeldung zahlst du den Grundbetrag von 400€, der die reinen Kosten deckt (dieser wird bei Absage nicht erstattet). Nach unserer Wanderwoche entscheidest du selbst, wieviel du uns als Honorar geben möchtest. Unterwegs entstehen für dich Kosten für Übernachtung auf den Hütten und deine Verpflegung. Hier kannst du in etwa mit 100€ pro Tag rechnen.
Der Berg ruft! Empfange seine Botschaft
Sign-up for our Newsletter