Where do you want to develop yourself to?

Transformation.
WanderCoaching Seminars
Make transitions conscious:
Change, Development and New Direction far away from everyday life.
You are currently in the middle of a transition and do not know any more, or what is most important now. Mostly we get stressed in situations like this. Then we try to work away the problems with more of the same without knowing at all where we actually want to go or what we actually need. That's no use.
"Crisis is a productive state. You just have to take it away from the disaster."
based on Max Frisch
Crises are normal life stages. We all know them, nobody can get around them. The only question is how we handle it. Rather than giving yourself a hard time, asking "why me?," or being unproductively busy, it's important to address the crisis not just at the level of action, but at the level of growth. The Crisis challenges you to take a developmental step as a person to grow, and by coping with it to broaden your scope for a more fulfilling life.
What is the danger of my situation? And what is the opportunity?
You are currently in a transition. This is an exceptional situation. Take it seriously and use our offer for reflection and reorientation.
What if you just let everything rest, go out and win your distance.. When you return to life after hiking coaching, you have energized, physically, mentally and spiritually refreshed, gained clarity and motivation, and the ability to take the next steps consistently. You encounter yourself in depth and grow as a person in coping with your current challenge. This is how you shape sustainable change in your life!
Take some time and ask yourself …
WanderCoaching gives you time for yourself and your inner alignment
At the WanderCoaching seminars, there are always developmental impulses through your companions, times of inner silence, intensive exchange with other participants, discussions with two people and individual coaching - and always the honest feedback of nature. You will have room to explore your own boundaries, explore your inner map, and connect with your vision and resources.
Get to know yourself in depth. Accept the challenge as an opportunity for personal growth and development. Shape your life instead of being shaped. Sign up for one of our Transformation WanderCoaching Seminare .
Take-aways from the seminar
"Auch Monate nach der Wanderung denke ich viel an die reichen Momente in den Bergen und profitiere beruflich und privat davon."
Katharina B., Unternehmensberaterin
"Einzigartige Kombination aus geführtem Wandern und strukturierter Selbstentwicklung – sehr empfehlenswert!"
Nicolai W., Manager Business Development
"WanderCoaching ist das Beschreiten und Erkennen von neuen Wegen."
Kirsten N., Zahnärztin
Procedure and methods in WanderCoaching
Hiking and coaching follow a lively dramaturgy. Together with a group of like-minded people, you set off. First of all, it is time to leave the daily routine behind, to come back to yourself completely and to perceive yourself. Then we get in and explore the field of possibilities. To realign the inner map, it needs orientation. On the way in the mountains, all the senses open for the vastness, space is created for the view inside and you come in contact with nature and in motion.
On the hikes from hut to hut you can expect a unique mountain world of vast meadows, rugged rocks and scenic mountain trails. The distances are easy to handle at an average fitness level. The focus is less on the athletic performance, but rather on the inner exploration. On the hike, you reflect on your current situation, create new perspectives and prepare yourself for new challenges.
The alpine accommodation - from simple mountain huts with shared sleeping areas to fully equipped mountain hotels - will provide you with good regional cuisine in the mornings and evenings on the tour. At lunchtime we take a break together, either with packed lunches, which we get at the hut, or at a stop. As a rule, the food is rather hearty, but there are also vegetarian options everywhere.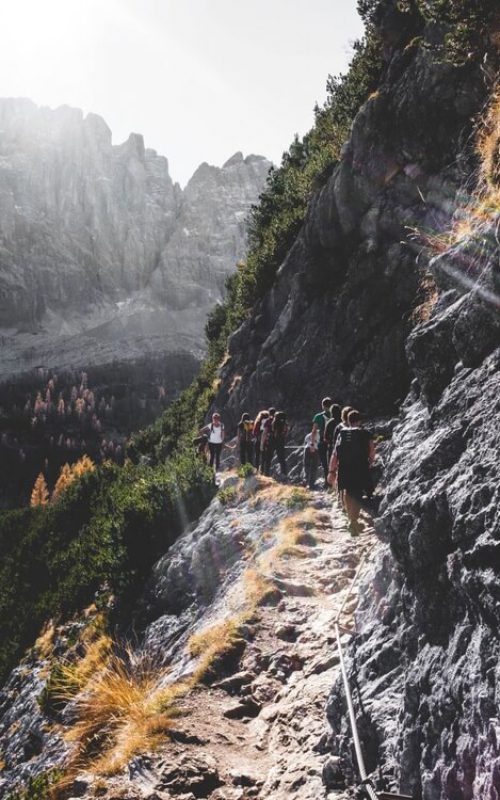 Our work is based on a systemic coaching approach backed up with our experiences in various fields: self-organisation, leadership development, innovation and creativity tools, conflict management and communication, integral theory, nature coaching and vision quest.
WanderCoaching Seminars offer a combination of ambitious sections as well as quiet phases, conversations in small groups as well as individual coaching, workshop units with certain contents and exercises. The exchange with others offers the chance to learn from each other. The nature and mountainous scenery frames the experiences and offers gentle stimuli to shape your way of life. This way you explore your own purpose and find out when you truly stand up for yourself.
We deliberately do not want to give away anymore. So you can meet your hike as openly and impartially as possible and you can be taken by surprise.
Only one thing is still important: The WanderCoaching can lead you into an intense process with yourself. You decide at any time how deep you want to go, what and how much you want to show of yourself.
We will create a secure environment for you to engage in this experience. You can read more about the special features of einlassen kannst. Mehr über das Besondere am WanderCoaching kannst du hier nachlesen.
Was Dich konkret erwartet
Sign-up for our Newsletter